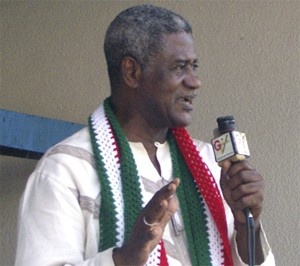 Chairman of the People's National Convention (PNC) Alhaji Ahmed Ramadan, says the party will attempt to resolve the current impasse between its aggrieved members and the Party's flagbearer Hassan Ayariga.

The disgruntled members are accusing Hassan Ayariga of selling out to the ruling party. They claim his comments against the main opposition NPP candidate's free senior high school policy at Wednesday's presidential debate betrayed him as a pawn of the NDC.


The aggrieved party members wondered why Hassan Ayariga opposed a policy which the party also ascribes to. They have therefore disowned him and called his integrity and commitment to the party into question.


But Party Leader Ahmed Ramadan says Hassan Ayariga's action may have been misunderstood. He says the disagreements over Hassan Ayariga are not unusual of any party.

"As a result of the last debate or even the first debate there is bound to be some people who disagree with the flagbearer but this is normal. In every institution made of human beings, there is bound to be some disagreement,' he said, adding "but this does not mean that the party is in tatters."


He said as the chairman of the party he would speak to the leadership of the party in order to reach an amicable level before the elections.


Alhaji Ramadan confirmed that the PNC believes that education must be free from primary to secondary contrary to the flagbearer's belief that it does not believe in free SHS.