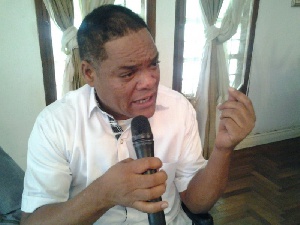 Scores of people living with varying degrees of disability on Saturday attended the manifesto launch of the Convention Peoples Party (CPP) to show solidarity with its presidential candidate, Ivor Kobina Greenstreet, saying he is one of their own.
Mr. Greenstreet, a physically challenged lawyer and a politician is hoping to lead the CPP to electoral victory in next month's elections.

He is the first physically challenged presidential candidate to contest elections since the re-birth of multi-party democracy in 1992.

Though not clad in the CPP paraphernalia, some of the disabled had to be assisted to gain access to the new Ghana Academy of Arts and Sciences auditorium because the facility is not disability friendly.

Others with milder conditions "navigated" their ways to the upper floor of the auditorium using the staircase meant for abled people because of the non-availability of space on the ground floor.

Some of them who interacted with The Ghanaian Times said the event was worth attending because one of their own was seeking to occupy the highest office of the land – the presidency.
"Look at this beautiful edifice put up not in 1960 but in 2016 yet it's not friendly to us," one of the 'disabled' Sampson Ankrah lamented referring to the building.

"If a disabled person were the president of the country, such public places would be built with us in mind because the president would have known how it feels trying to access such buildings which discriminates against us," Mr. Ankrah who claimed to be coming from Kumasi added.

He said it was time a member of a minority group took over the reins of power to steer the country to success because "the NDC and the NPP have failed us".

Ms. Cynthia Akruga, one of the physically challenged seated in her wheel chair said she was not a member of the CPP but would vote for its presidential candidate.

Her decision to dump her party's candidate for Mr. Greatstreet was because promises made to them by previous governments have not been fulfilled.
The selection of Mr. Greenstreet as the flagbearer of the CPP, according to her was an indication that the CPP would not discriminate against them in the equal distribution of national resources.

Addressing the gathering, Mr. Greenstreet expressed his appreciation for the support and said the CPP had goodwill towards the disability community.

He said he would ensure the Disability Act was fully implemented, if he was elected President, to alleviate the movement hustle of the disabled.

The inability of the NDC and the NPP to implement the law, which stipulates that all public structures and places were made disability friendly, Mr. Greenstreet said, was a clear indication of their selective nature.

A CPP government, Ivor Greenstreet said would increase the two per cent disability fund embedded in the District Assemblies Common Fund to five per cent in order to cater for a larger number of disabled people.