The 'hypocrites' at Peace Council, they lose their voices under 'certain governments' — Mahama shades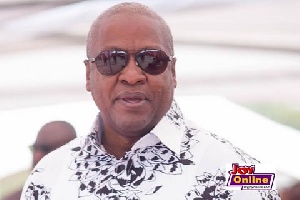 Former President John Mahama has said the problem in Ghana is the hypocrisy of "some opinion leaders" who were once very vocal about issues, but suddenly, with a change of government, they are either silent, or are now speaking in defense of the very same wrongs they would have condemned under NDC, MyNewsGh.com has filed.
Without mentioning any name directly, Mr Mahama was particularly displeased about the "hypocrisy" of some opinion leaders (obviously directed at Peace Council Chairman) who did not condemn the violence meted out to unarmed NDC members but are calling on him (Mahama) to apologize for his "boot for boot" comment.

Mr Mahama was speaking at a campaign stop in North Tongu followed and monitored by MyNewsGH.com correspondent.

"All the people who were shot [at Ayawaso Wuogon by election] were not armed. When you talk it is rather me they are accusing me. Because I said if they continue we'll be forced to defend ourselves. 8 people have received gunshots wounds. We who have been shot should come and apologize?" Mr Mahama told the charged crowd who had waited hours into the night just to meet him.

The excited ground cheered on Mr Mahama as he delivered one blow after another.

"Anytime NDC is in power they are always very vocal… when something happens, this is wrong and they are condemning but as soon as their preferred government is in power, everything is right. Family and friends is right as long as they are qualified. 3y3 zu!!!" He said. "3y3 Za!!!", the crowd chanted back.
"You think Npp will be in power forever?" he asked. "Nooo nooooooo" the crowd replied

"Now they are saying they are investigating. what Investigation? You know where those people came from. The picture are there. Our people have identified almost all of them. They are Invisible and delta forces put in police uniform using SWAT vehicles"

Mr Mahama said the peace of Ghana was very important to him, but warned that NDC would not be taken for granted in future polls as they would be forced to defend their people too.

'Hypocrite' animal-watching clergy

This is not the first time Mr Mahama has had cause to question the posturing of some formerly loud opinion leaders and chiefs since the change of government.
In March 2018, MyNewsGh.com reported on how he opened fire on some the hypocrites who have taken position as "opinion leaders" but acting as sycophants under the Akufo-Addo government. He criticised the clergy and civil society groups in Ghana for what he says is their silence over the "nepotism" in the Akufo-Addo government, particularly Dr Mensah Otabil who claims he now watches animals (National Geographic Channel) to prepare his sermons.

According to Mr Mahama, recognisable voices in the country now resorting to watching animals was plain hypocrisy, as they are now turning deaf ears to issues that were treated as front burner under his administration.

Koku Ayidoho, then Deputy General Secretary of the NDC suggested pastor Otabil relocated to the Zoo as that would serve him better.