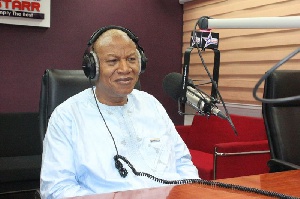 National Democratic Congress (NDC) big wig Professor Joshua Alabi says given the happenings in the country currently, there is a high possibility that there will be a change of government in 2020.
He said the mantra of Ghanaians during the festive holidays – yetuasheda – is evidence that there will be a return to "hope" offered by the NDC.

"Observing from what is happening in the country today, with the new phrase 'yetuasheda' emerging during the just ended festivities, there is a high possibility, that Ghanaians will change the government, come 2020, and replace it with a new government (NDC) that will instill hope and provide solutions to the welfare issues affecting the good people of Ghana," Professor Alabi said in his statement on the 25th anniversary of the Fourth Republic.

Released on Sunday, the statement rallied the citizenry to be involved in governance and "applaud where we get it right and offer constructive criticism where we get it wrong".

"We should be strong to change where there is the need to change."

The former Member of Parliament stated that the kind of democracy to be embraced by all "should look beyond ethnic and religious affiliations".

The former Vice Chancellor of the University of Professional Studies, Accra (UPSA) recalled how he, former President John Dramani Mahama and President Nana Addo Dankwa Akufo-Addo were sworn into office 21 years ago "determined to entrench the democracy bequeathed to us and make our nation proud".
It was his period of contribution to the Fourth Republican legislature.

Prof Alabi called on Ghanaians to renew their faith in the choice of democratic governance and put to use their "God-given rights" to change governments when things are not going well.

"Let us all be active citizens by contributing towards our national development and by holding those in positions of responsibility accountable for both their actions and inactions."

He condemned the infiltration of money in the democratic exchange, advising that a move away from that to ideas and causes should rather be espoused.

"Monetics as our politics has become seeks to make the rich even richer by pretending to care for the poor in disguise."

Prof Alabi wished Ghanaians well.