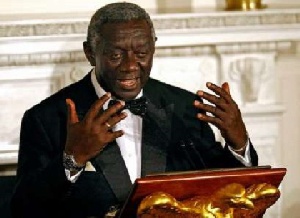 Former President of the republic of Ghana,John Agyekum Kufuor says that with the improvement in technologies and the use if the internet, young graduates who could barely get for themselves well paying jobs are on the verge of instigating political uprisings against democratic leaders and governments. He was Speaking during a courtesy call made on him by the International Democratic Union (IDU).
According to John Kufuor; "If such resourceful youths will leave universities, there is a measure of intolerance that even regular good governance may not be able to cope with".

The warning by Kufuor follows Ghana's graduate unemployment rate reaching almost 48 percent as at 2016, a development likely to expand due to the deficit in skills training across various universities and also the unfavorable working environments in the country which is hampering private sector businesses.
Meanwhile, government is putting in place measures to end the menace of unemployment through various programs as the planting for food and jobs which is expected to churn out 750,000 jobs and the one district one factory policy which is also expected to create jobs of thousands of unemployed youths.

Private sector businesses are also tipped to enjoy tax waivers should they expand their nets to employ more young graduates from the various universities.