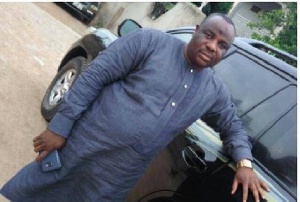 Tue, 5 Dec 2017 Source: Muniru Ibrahim
A group of young National Democratic Congress supporters calling itself, "BUNAS MUST CONTEST" says calls for Mr Abdul Nasir Saani,(BUNAS) to lead the NDC in the Upper West Region is in the right direction.
The group believes the return of Mr. Saani will help the party in the Region to regain the five parliamentary seats the party lost to the NPP in the 2016 elections.

The party swept all eleven seats in the 2012 general elections but its fortunes dwindled in 2016 polls.

Among those who lost their seats are MPs for Sisala East, Alijata Suleman, Sisala West, Alhaji Amidu Suleman, who was the Upper West Regional Minister; and Wa East, Dr Seidu Danaa who was also the then Minister of Chieftaincy.

Nandom MP, Dr Benjamin Kumbuor decided not to seek re-election. His successor lost while the incumbent for Lawra, Samson Abu who won on the ticket of the NDC in 2012 lost as an independent candidate to the NPP's Anthony Abayifa Karbo.

In 2012 presidential elections, former president John Dramani Mahama on the ticket of the NDC pulled 186,098 representing 65.54 percent of the total votes while the president Nana Akufo Addo on the ticket of the Npp pulled 83.098 representing 29.26 percent
In 2016 votes of the former president declined to 167.34 representing 58.43 percent and that of the president Nana Akufo Addo votes increased to 102.483 representing 35.85 percent

According to the group the current Upper West Regional Chairman of the party Mr. Mathew Sung-aabu popularly known as Matco has failed the party in the region and, therefore, the need for the party to recall Bunas to contest in the upcoming elections.

In the 2016 regional elections, Mr. Sung-aabu, who was the least talked about especially in the capital pulled a surprise when he marshaled 44 votes, beating his closest contender Alhaji Abdul-Nasir Mohammed Saani popularly known as Bunas by 5.

"The way forward for the party, in our view, as informed by an invaluable insight of private and public discourses, is for the rank and file to eschew all forms of pride, prejudices and discriminations, and dispassionately discuss and decide on Bunas to lead the party,'' the group said.
Source: Muniru Ibrahim