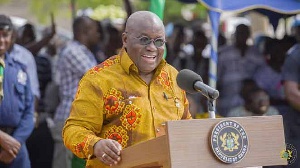 A communication team member of the opposition National Democratic Congress in the Ashanti Region, Mr. Kwaku Asafo Adjei has attacked the presidency for violence involving members of various political vigilante groups recorded under this current administration.
According to him, the political antecedents of President Akufo-Addo is confusion and violence indicating that it is not surprising his party members are attacking state institutions and government officials.

The aspiring Ashanti Regional Deputy Communication Officer of NDC explained that, Nana Akufo-Addo then as opposition leader of New Patriotic Party (NPP) sowed the spirit of "all die be die" into the NPP youth which has now matured to be harvested.

"If we have a President today who is on record to have said 'all die be die' what should we expect from his supporters", the outspoken communicator quizzed.

According to him, the attack on Karaga DCE, Delta Force raid and several others in the past eight months are precedences of more dangerous ones to follow if government does not take steps to address challenges of the youth in the party immediately.
Mr. Kwaku Asafo Adjei on Kumasi-based Nhyira FM morning show panel discussion took on state security agencies for doing little to arrest the NPP youth in the Northern Region who recently attacked a District Chief Executive (DCE) in area.

"So what is the police in the region doing all this while? …are they telling us they cannot be arrested and prosecuted because their party is in power?"

"It is time our security agencies are proactive irrespective of the political party in power", Mr. Kwaku Asafo Adjei pointed out to sit-in-host, Papa Nyameke Monday.