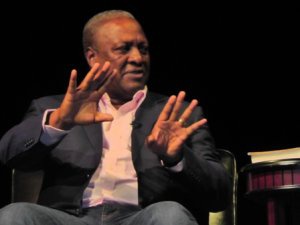 Sun, 25 Nov 2012 Source: GNA
President John Dramani Mahama on Saturday reminded politicians that the use of violence and other forms of intimidations would not attract people to vote in their favour.
Instead, he urged them to campaign peacefully and avoid any form of violence that could dissuade people from voting massively for the National Democratic Congress in the forthcoming general election in December this year.

President Mahama said this when he addressed separate rallies as part of his three-day campaign tour of the Eastern Region.

He said: "The NDC is a party for all, and it will be useful on our part to campaign peacefully and ignore those preaching war to go their separate ways."

President Mahama in his last day of the eastern Region held similar rallies at Nsawam, Kraboa Coater, Adeiso, Boadua, kade and Akyem Sewdru.
The President said winning elections should be based on issues, ideas and programmes and therefore the use of violence and intimidations would rather scare potential voters adding "we need to distance ourselves from those things in order to maintain the confidence of the people."

He appealed to the leaderships of other political parties to constantly educate their supporters against the use of violence and intimidations since that could mar the hard won reputation of the country, due to their feat in organizing five successful elections.

President Mahama promised to adequately resource the Electoral Commission and security Agencies to effectively ensure yet another successful election next month and appealed to all stakeholders in this year's elections to play their roles professionally and effectively to maintain the international recognition the country had gained over the years.

The President earlier in Koforidua inaugurated a multi-million Cedi Regional office of the National Health Insurance Scheme.
Source: GNA