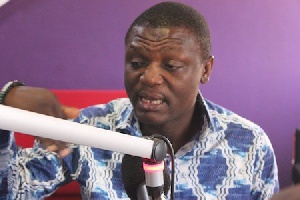 National Organiser of the National Democratic Congress, Kofi Adams, says the leadership of Ghana cannot be entrusted to Nana Akufo Addo and Dr Mahamudu Bawumia who have a penchant for sleeping and lying respectively.
According to Kofi Adams, the flag-bearer of the New Patriotic Party sleeps every minute and at the least opportunity, and that his running mate has also developed appetite for lying about the economy.

"There is no way we can hand over the vehicle of Ghana to a sleeping driver and a lying mate," he told party supporters at Ashaiman in the Greater Region Sunday. He suggested that Nana Akufo-Addo has failed to even manage his party well, hence such a person cannot be given the management of Ghana.

"If someone is given a class prefect and is unable to deliver, do we give the person the school prefect?," he asked rhetorically. For him, President Mahama and his running mate, who are at the helm of affairs, have distinguished themselves creditably for which reason Ghanaians should give the NDC another term.

He told the crowd: "The driver [Mahama] and his mate [Amissah-Arthur] have driven the car so well and you say we should give the car to a driver who is always sleeping? Driver [Akufo-Addo who sleeps every minute; a mate [Dr Bawumia] who lies?"
Mr Kofi Adams said the only message they have for Nana Akufo-Addo and his NPP is that the running of the country cannot be given to inexperienced hands "This year's election is about experience, it's about the one who has demonstrated he can do the work," he said, indicating that person is President Mahama.

He told party supporters there is a lot of work to do to retain the NDC in this year's December 7 elections, noting all supporters must get on board to get down to business.

"This year's campaign will be from one room to another room, one house to another house, one church to another church, one mosque to another mosque, one market to another market with the message of saving Ghana once again," he told the supporters.