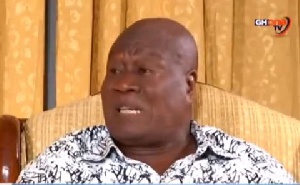 National Chairman of the main opposition National Democratic Congress (NDC), Kofi Portuphy, has called for calm within the party and assured supporters that the NDC will deal with President Nana Akufo-Addo's machinations at the Electoral Commission after the burial of late Vice-President Kwesi Bekoe Amissah-Arthur.
"The NDC will, therefore, resist the deliberate attempt by the Akufo-Addo government to abuse constitutional processes with the sole objective of manipulating the electoral process", he stated in a press statement on Tuesday, 17 July 2018.

Mr Portuphy said the leadership of the party is aware of the pressure being brought on them "to exercise our inalienable constitutional right by demonstrating against this blatant assault on our democracy".

The leadership of the NDC, however, appealed to members to exercise restraint as efforts are made to organise the funeral and burial ceremony of the late former vice-president.

President Nana Akufo-Addo, a few weeks ago, removed Mrs Charlotte Osei from office as Chair of the Electoral Commission along with her two deputies: Georgina Opoku Amankwah and Amadu Sulley.
A committee set up by Chief Justice Sophia Akuffo to investigate separate complaints brought against the three persons by Ghanaian citizens, recommended their removal.

The decision of the president has been challenged by some critics including leading members of the NDC.

According to Mr Portuphy, the party understands the restlessness among party members and the good people of Ghana in general, over the matter.

"Please be assured that President Akufo-Addo and his collaborators will not be allowed to get away with the premeditated, cynical and shameful subterfuge to subvert the electoral process and undermine the growth of our democracy," Mr Portuphy emphasised in the statement.