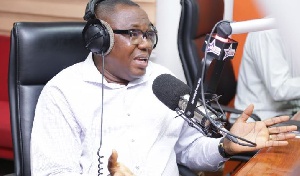 The opposition National Democratic Congress (NDC) says the party will respect the rule of law in matters of injunctions slapped on the election of executives in some constituencies.
After their disqualification, some aggrieved aspirants of various positions in their constituencies applied for an injunction on the processes leading to the election of constituency executives. This resulted in some elections being put on hold on Saturday, June 23, 2018 in some parts of the country.

Speaking to Piesie Okrah on Power Midday News on Power 97.9 FM on Monday, NDC's Director of Elections, Samuel Ofosu Ampofo disclosed that the party had met to resolve all issues that marred the electoral processes in some parts of the country except the ones that were court.

He added: "the party leadership has been working very hard on the issues. Madam Betty Mould Iddrisu chairs the Legal team of the party and also the Appeals committee. We've been working around the clock to ensure that they are resolved."

Commenting on those in court, Mr Ampofo said:"we'll make sure that we respect the rule of law and go through the processes and ensure that those constituencies are also cleared."

"…The petitions and the matters that are not beyond us [and] are not before court and are within the remit of the party, we'll look at those ones: By tomorrow [Tuesday], we are likely to clear most of them so that aspirants can go on to contest," he added.
Mr. Ampofo, therefore, assured members of the party that the matters will be dealt with accordingly to make way for fresh elections.

He added that aside those challenges, the party is working out the roadmap to start the processes toward the party's regional elections which will come off soon.

The positions of Chairman, Vice-Chairman, Secretary, Deputy Secretary, Treasurer, Constituency Organizer, Deputy Constituency Organizer, Communication Officer, Deputy Communication Officer, Zongo Caucus Coordinator were contested for at the just ended constituency level.

Same positions will be contested for in the constituencies that have not held their elections yet.

While receiving reports on the constituency elections, Mr Ampofo also noted that the challenges will be handled at the national and the regional levels before the regional elections take place.