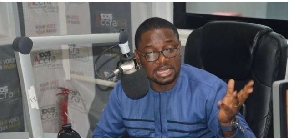 The former Deputy National Communications Officer of the opposition National Democratic Congress (NDC), Fred Agbenyo, is pleading with Ghanaians to give the party a second chance as they have learnt their bitter lessons.
According to him, the NDC party made a lot of unbearable mistakes that brought economic hardship on citizens and upon sober reflections whilst in opposition, want a chance to rectify the mess they created.

"We've made a lot of mistakes and I believe this period we've been in opposition has made us learn a lot that is why we are pleading with Ghanaians to give us a second chance. So upon sober reflections, we've learnt new things that we will use to improve the economy," he stated.

Speaking on Peace FM's Kokrokoo show on Wednesday, October 3, Mr. Agbenyo said although Ghanaians suffered during their regime due to some decisions they took, the situation on grounds currently can't be compared to theirs as businesses are collapsing, there is increase in fuel, electricity and water prices, as well as, the 9 percent tax on communication, among others.

Begging for a change in government to salvage the situation, Mr. Agbenyo said the time has come for the NDC to rescue Ghanaians from the Akufo-Addo-led government because they've learnt new things that would be used to improve the economy and free citizens from all economic hardships.

On October 1, tariffs on electricity and water increased to 5.94 percent and 2.22 percent respectfully.

The Public Utilities Regulatory Commission (PURC) explaining the justifications for the increment said the automatic adjustment formula was used in determining the real cost of electricity and water on a quarterly basis. Also, factors such as the cedi-dollar exchange rate, inflation, demand forecast and electricity cost accounted for the increment.
But Vice President, Dr. Mahamudu Bawumia at the launch of the Youth Employment Agency (YEA) on October 2, said his government, as compared to what the opposition did, has managed to reduce the cost of electricity.

According to him, during Mahama's administration, electricity tariffs were increased by 166 percent but the NPP decreased it to 5 percent.

He stated that "In 2018, we [NPP] reduced electricity prices of businesses by 30% and for households by 17.5 %, an average of around 22%. Earlier this year in July, there was an increase of electricity price of 11% and yesterday of 5.6%. When you take the total cumulative increase on average, as I said, between 2017 and today, you have a cumulative decrease of about 5%". So, the NDC, in their last four years, increased [electricity tariff] by 166%, we have come down since we have been in government by 5% on average".

This, Dr Bawumia said, far outweighs the performance of the Mahama administration.

Comparatively, he said it is "still 'boot for charley-wote' when you come to electricity pricing".