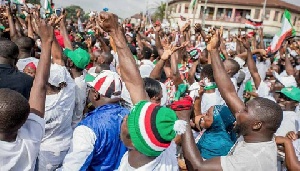 The Communication Officers of the National Democratic Congress in the Northern Region have observed that one of the reasons that led to the defeat of the party in the 2016 elections was because the communication leader was too weak.
The Officers made this observation in Tamale when they came together to endorse the candidature of Mr. Sammy Gyamfi, an aspirant for the national communication officer position in the party's upcoming elections. They did not provide details for their observation.

The 31 officers unanimously declared endorsement for Mr. Sammy Gyamfi after praising him as the only candidate among the others capable of leading the party's communication front "without any hitches."

According to them, the emergence of the vibrant young lawyer on the media landscape as a member of the party's national communication team has received commendations from its rank and file, and, therefore he needs to be supported to assume full control of the communication arm of the party.

"We upon investigation and serious soul searching come to the conclusion that winning election 2020 is non-negotiable and winning that election depends gravely on who leads the charge to expose the bad governance, inept, and incompetent way the NPP is running this country, most especially the broad day thievery and wanton disregard for the rule of law that President Nana Addo and his government is taking the country through"
"So it's important to note is None other person but Lawyer Sammy Gyamfi", Abdul Razak Imoro, the party's Communication Officer for Walewale constituency.

The Officers explained that their open declaration for Sammy Gyamfi was for the many good reasons that every loving member was already aware of.

"It is clear that the NDC under the current communication leader lost the media debate to the NPP run-up to the 2016 elections and for us to prosecute election 2020 without communication hitches we need Sammy to take the charge of leadership as the national communication officer, supported by the 10 regional and 275 Communication Officers and deputies"

"He has always made his co-panelist from the NPP jittery when sitting with him for any political show", the officers added and called on their colleagues to support Sammy's bid in the coming elections.