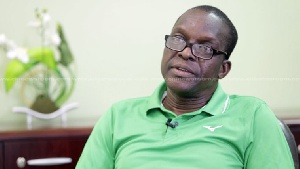 Some delegates of the National Democratic Congress (NDC) in the Central region say they have had a change of mind about the Second Deputy Speaker of Parliament, Hon. Alban Sumana Kingsford Bagbin, after having the opportunity to interact with him.
More importantly, the delegates claim that the vision of Bagbin which he outlined to them at separate locations in the Central Region was inspiring.

In the view of some of the delegates, prior to their encounter with Mr. Bagbin who is one of the flagbearer hopefuls of the NDC, they had their own perception about the Nadowli/Kaleo lawmaker.

But having listened to him, they have had a change of mind after realizing that all the bad things they heard about Hon. Bagbin were lies by his political opponents.
The delegates made these observations after Mr. Bagbin had interacted with them.

The Second Deputy Speaker of Parliament began his tour in the Central region on Thursday, November 8, 2018.

He is expected to end the tour in the region on Wednesday, November 14, 2018.