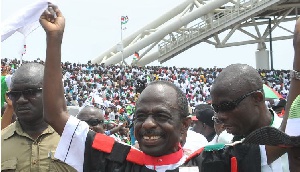 The Vice President Kwesi Amissah-Arthur and General Secretary of the National Democratic Congress (NDC), Johnson Asiedu Nketia, have stated that they are confident the NDC would win 60 per cent of the votes in Eastern Region during tomorrow's polls.
Both made the resounding statement to hundreds of NDC supporters at the party's "Agenda 50/50" votes rally at koforidua's Jackson Park in the Eastern Region.

Asiedu Nketiah recapped to the supporters that NDC's objective to win 50 per cent of the votes in the Eastern Region had now progressed from "Agenda 50/50 to "Agenda 60/40".

He explained that initially he doubted whether the target was realistic but upon arrival at the Jackson Park, and seeing the large enthusiastic NDC supporters, he was optimistic that the "Agenda 50/50" could be surpassed to 60/40.

He reminded the supporters that the Eastern Region was not the stronghold of the NPP as people were made to believe because in 1992 and 1996 elections, the NDC won.
He urged the party foot soldiers to go out to communities to canvass for more votes to give President Mahama the 60% needed to ensure one-touch victory tomorrow.

Dr Edward Omane Boamah also speaking at the rally said the party will not allow NPP to intimidate it members as it did in the previous years

He urged also the NDC supporters to go back to their communities to embark on door-to-door campaign to ensure total victory for the party.