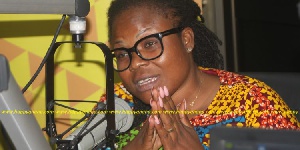 Newly elected Deputy National Women's Organizer of the opposition National Democratic Congress (NDC), Abigail Elorm Mensah, has negated claims by the ruling New Patriotic Party(NPP) that the NDC will find it difficult to wrestle power from them in 2020 general election.
Speaking on Happy FM's Epa Hoa Daben show, Elorm Mensah said the NDC will be a thorn in the flesh of their sworn adversaries till 2020.

"We [NDC] will torment NPP until they run away leaving the seat vacant even before 2020."

The former Parliamentary candidate for Fanteakwa South Constituency further stated there is a lot happening in Akufo-Addo's government which gives the NDC the upper hand in convincing Ghanaians to vote for her party.

According to the soft-spoken Ms. Mensah, this is just the beginning of the hardship Ghanaians are going to face as it is only two years of Akufo-Addo's bad governance.
She, however, debunked claims that in the recent NDC elections, delegates openly 'offered their conscience' for sale to the aspirants in return for items such as sewing machines, flat screen television sets, motorbikes, as well as cash.

Prior to the election, ex-president John Rawlings said, "The party was formed through the selfless sacrifices and integrity of gallant young men and women of this country. Women and the youth were the backbone of this history and still remain pivotal in shaping the future and destiny of our country."

The NDC founder decried the monetization of elections in the Party and appealed to all NDC young delegates not to allow their conscience to be bought with 'goodies' from aspirants.