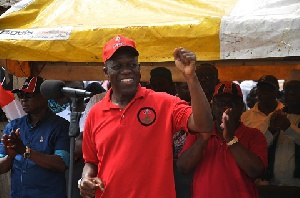 Thu, 10 Nov 2016 Source: Maxwell Okamafo Addo
Some residents from the Western Region have given the NDC party an assurance that they would increase votes for the party. This they claim would be done by widening the gap for John Dramani Mahama in the 2016 elections.
This became evident when the Vice President Kwesi Amissah-Arthur visited chiefs and people in the various communities of the Western Region on his day two of his four day campaign tour.

He visited Agona Nkwanta , Apowa Junction , Mpohor ,Adum Banso ,Sekyere Krobo and Daboase. On his part the Omanhene of Mpohor Traditional Area Osabarima Kwaw Entsie II could not hide his joy for the numerous developmental projects undertaken by H. E President Mahama and the NDC government in his area and asked for God's guidance, protection and success in the upcoming general elections.

Adum Banso in the Mpohor District of the Western Region also went gay when Vice President Kwesi Bekoe Amissah Arthur addressed a mini rally and also introduced the NDC's parliamentary candidate for the area Eric Kwaku Kyeremah. The crowd were more electrified when the Vice President touched down in Sekyere Krobo to attend a rally.

He was received by hundreds of party supporters who were overjoyed by the unprecedented achievements that they have witnessed.

Addressing party supporters Mr Amissah-Arthur called on them to widen the gap in the area so that the NDC would be maintained.
Mr Amissah-Arthur reechoed the need for them to avoid skirt and blouse voting looking at what the MP for the area Issac Adjei Mensah has been able to do for the people of the area through hard work.

He said the turnout was impressive and that gives him more hope for the recognition of the work that the NDC party and John Mahama has done in the area.

The Vice President Kwesi Amissah-Arthur said the NDC party is a party for the people and it's evident for all to see in the area in terms of the massive infrastructure development that they are witnesses to.

He said the NDC party would continue to do more so that it would benefit the people of the area
Source: Maxwell Okamafo Addo