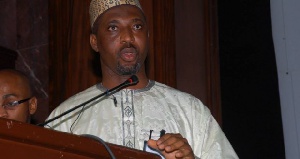 The Minority chief whip who doubles as the member of Parliament for Asawasi, Hon. Mohammed Mubarak Muntaka has stated emphatically that the Akufo Addo's Government is facing challenges especially with the implementation of the free SHS .
According to him, every programme comes with its own challenges and thus commend the government for the implementation of the Free SHS.

However, there are so many loop holes which technically is affecting the beneficiaries, he said.

Speaking on Okay FM's Ade Akye Abia Programm Mr. Muntaka reiterated that the free SHS policy seems to be good, but the NPP government has compromised the quality of it and that spells a disaster for the country's future.

"The way they are handling this free SHS programme, the quality will soon be like the Government Schools (Saito) which means most parent will be sending their wards to private school instead of the government schools", he stressed.
For him Two years of NPP has been nothing but full of empty promises and propaganda. Enough of the efforts we want results he posited.

'If am asked to rate NPP on a 10 mark score, i will give them 4.5'.