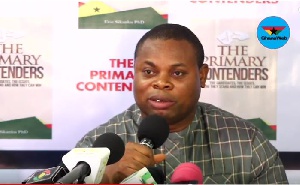 Founding President of policy think tank, Imani Africa, Mr. Franklin Cudjoe has criticised the boycott of Peace FM's Kokorooko by opposition National Democratic Congress (NDC), arguing that instead of a boycott, the NDC could have deployed another means of protesting and getting the change they desire.
He suggested that the NDC could have simply sponsored serial callers and texters and social media users to protest whenever Allotey Jacobs is present on the show.

"The NDC shouldn't have boycotted Kokorooko. They should have simply sponsored serial callers and Texters, tweeters, facebookers to protest any time Mr. Jacobs was on the show. I'm sure the producers would have advised themselves," he tweeted.

The NDC has boycotted Peace FM mainly due to the regular presence of Mr Allotey Jacobs, a now-suspended NDC member who has constantly chastised the NDC, and the dictatorial tendencies of the host of the political show.
See the tweet below,


2. The NDC shouldn't have boycotted Kokorooko. They should have simply sponsored serial callers and Texters, tweeters, facebookers to protest any time Mr. Jacobs was on the show. ????????????. I'm sure the producers would have advised themselves.

— Franklin CUDJOE (@lordcudjoe) May 6, 2020