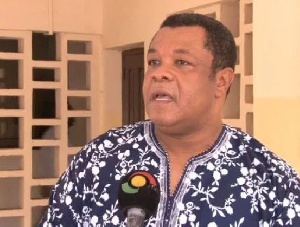 A woman activist of the National Democratic Congress party left many compatriots in mixed emotion when she demanded, at a rally in Tamale called by a presidential hopeful, Augustus Goosie Tanoh, why he had abandoned the NDC to form a new alliance, that sparked turbulence in the NDC in 1996.
Tanoh arrived in Tamale, the Northern regional capital, to kick start his presidential candidature campaigns in the region after ending similar ones in the Upper Regions. He held a rally at the Pastoral Centre in the city where many several grassroots members attended.

Goosie is campaigning to be elected as a presidential candidate of the NDC for 2020 elections.

One of the sharpest political weapon copiously launched against his bid by rivals and their surrogates has been the circumstances surrounding how he left party in the late 1990s to form his National Reform Party (NRP) and led it into the 2000 elections, where he was battered with only 1.1% of the national votes.

Though, he rejoined the NDC after the party lost two general elections in the 2000 and 2004, many supporters have maintained that his reaction was a betrayal of patriotism and loyalty.

Many other supporters of rival contenders now want the party to punish him by disqualifying him from running in the internal elections.
The party woman, therefore, wanted to know all details of the incident and assurance from Goosie that he wasn't going to desert the party again no matter the outcome of the upcoming internal elections.

The challenge drew a loud and long murmurings from the crowd as the woman stood right in front to listen to the autobiography of a man described by many as a founding member of the NDC.

When Gooshie stood up to answer to the question, rather, he showed no physical sign of emotions but only wipe his mouth with an handkerchief and asked the gathering to listen with rapt attention the explanations he was to provide.

He started by giving some insight of his contributions to the formation and transition of the NDC party and explained subsequently that he broke away to ensure the rebirth of the party after he and many others were being victimised and targeted for supporting the popular "Kume Pre Ku" demonstration, the largest deadly post independence deadly street protest in the history of the country since the 1948 riots.

"In 1994/5, a group of people went on a demonstration to oppose the VAT, called Kume Pre Ko. And in our 1992 constitution, any people can say what they like, everybody can demonstrate in favour of what they want and Kumepreko was doing the right thing under the law by demonstrating against the VAT, and also expressing the views that they didn't want the VAT by marching on the streets; they were doing nothing wrong"
"But a few people in NDC who believe that the ordinary people should have a voice in the party, who believe that the party is their founding property, decided to organise a counter demonstration without consulting anybody, and in the heated situation, the counter demonstration clashed with the Kumepreko matches; people died, properties were destroyed and some of us who founded the NDC said 'it is wrong, you cannot do that, because NDC standard are much much higher than NPP standard, because we were the people's party, we were social democratic party, you can't organise a counter demonstration when people are exercising a right under the constitution"

"So we formed a group called founding members for reform in the NDC to oppose these few tendencies in NDC which were harming NDC. The situation became so bad that by 96 this group of people were controlling NDC and holding it by the neck and imposing candidates on constituencies: so when we rose up we objected to these things and they started attacking us, victimising people, chasing us from work, throwing people out of their houses, trying to arrest us. So we were asking the NDC to abide by its principles. So in January 1997 at GIMPA before former President Rawlings, the new vice President Mills, all the ministers and DCEs, and I told them that if NDC continues on the path that its continuing it will lose the 2000 elections. And when they try to arrest us, sack us, throw us out of their house, try and push us out, we said if we have to leave NDC for NDC to wake up and must be faithful to its founding principles then lets do that, so that NDC will become strong".

He disclosed further how the late president Atta Mills convinced him to rejoin the party after the 2000/2004 elections, which the NDC lost miserably.

"In 2004, professor Mills, our blessed late president invited me and said Goosie since you left NDC spirit is broken, what you said about reform in NDC is true, we did not handle it properly, come back and help me implement the reforms in the party. Today, branches can elect the president of Ghana, so these are the things Reform suffered for and today you have it. We won 2008 and we won 2012 and we went back to our old bad habits, we lost 2016, that a the truth about Reform". – Eliasu Tanko