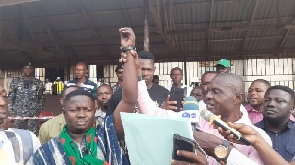 Yakubu Issifu, an insurance marketer, has emerged victorious in his bid to become the National Democratic Congress (NDC) parliamentary candidate for the Mampong constituency in the upcoming 2024 general elections.
His resounding victory saw him secure 723 votes, leaving his main contender, Yahaya Seidu, trailing with 284 votes. 7 ballots were rejected during the election process.

During his victory speech, Issifu expressed gratitude for the support he received from the delegates. He pledged to unite party members and work tirelessly to secure the Mampong parliamentary seat for the NDC, aiming to unseat the ruling New Patriotic Party (NPP).

"I anticipated a win, given the strong relationship I have with the delegates, but I didn't expect such a wide margin," Issifu remarked. "I am committed to bringing together not only my supporters but also those who backed my opponents. Together, we will strive to win this seat for our flagbearer. The message to the NPP is clear: we are prepared to challenge for this seat."
Issifu, who officially launched his political career by contesting the parliamentary primary in the Mampong Constituency, has a proven track record of active involvement in the NDC.

Presently, he serves as the Assemblyman for the Kofiase Electoral Area in the Mampong Municipality of the Ashanti Region.