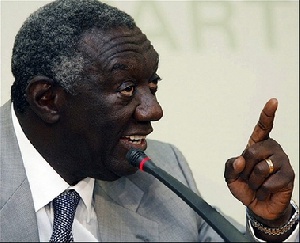 Sun, 25 Nov 2012 Source: Joy Online
Former President John Agyekum Kufuor has said that Ghanaians cannot wait any longer to have Basic Education to the Senior High School, fee free.

The NPP administration under President Kufuor introduced the Capitation Grant which absorbed the payment of school fees at the basic level.


"How many privileged children proceed to Senior High School after completing JHS", he questioned.


"That is the reason why every Ghanaian child must benefit from a free Senior High school education now.


"This election is about the future of our little children", he said, arguing that the current generation cannot deny the children a free Senior High Education.


The former President was addressing a massive regional rally in the twin-city of Secondi-Takoradi on Saturday, to round-off the tour of the region by his flagbearer Nana Addo Dankwa Akufo-Addo ahead of the December 7 elections.


This is the party's second regional rally, after a similar one in Dodze in the Volta region.

Even though the rally was billed for late afternoon, hundreds of supporters of the party started trooping to the Jubilee Park rally ground by 9 am, with loud sounds of Vuvuzelas and party-branded whistles.


It appeared Secondi-Takoradi was painted in the Red, White and Blue colours of the main opposition NPP.


On his part, Nana Akufo-Addo promised to use revenue from the many resources abundant in the Western region to develop Secondi-Takoradi into "the oil and gas hub for Ghana", and the whole of West Africa. He added that if given the nod, his administration would invest the oil revenue in the future of the children of Ghana.


The Presidential candidate, who spent the morning worshipping with members of the Church of Pentecost, also attended the burial of the late Parliamentary candidate for Ejumako Enyam-Essiam, Ato Quainoo.


He later joined former President Kufuor (who also attended the funeral of the late Paramount Chief of Esikado. The arrival of the convoy at the Jubilee Park threw the crowd in ecstasy.

Source: Joy Online