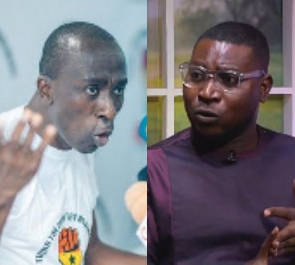 The Deputy Director of Communications of the governing New Patriotic Party (NPP), Ernest Owusu Bempah, has taken a swipe at the Executive Director of Alliance for Social Equity and Public Accountability (ASEPA), Mensah Thompson after they clashed over Frimpong-Boateng's galamsey report on UTV's Adekye Nsroma show.
In an open letter to Mensah Thompson, the NPP deputy director of communications said though he wasn't taken aback by the response given by Mensah Thompson after he [Owusu Bempah] accused former President John Dramani Mahama of involving in galamsey, Mensah Thompson's ignorance on social matters disgusts him.

"Your intervention after my commentary linking Mahama to galamsey on UTV's Adekye Nsroma programme on Thursday, April 27, 2023, is a clear evidence of your utter hypocrisy and hubris. I expected your impertinence but your ignorance in arrogance nauseate me," part of Owusu Bempah's message read.

"The fact that you're unaware that Mahama actually introduced Youth in Small Scale Mining programme in the Eastern Region, and the program opened the floodgate for galamsey menace is a clear indictment on your person as a claimant to civil society platform... the NDC had the opportunity to pull the plug on galamsey but they rather enabled it and watch it fester badly. Of course, the galamsey situation got so bad under Mahama in 2015, such that he had to hang his shame on the people of Kyebi, tagging the place as the headquarters of galamsey in the country," he said.

It would be recalled that during a panel discussion on UTV's Adekye Nsroma on Thursday, April 27, 2023, Ernest Owusu Bempah accused former President John Dramani Mahama and the National Democratic Congress (NDC) of being responsible for Ghana's failure to tackle galamsey.

The NPP deputy communications officer further asked former president Mahama to apologise to Ghanaians for his contribution to the failure to fight galamsey.

Owusu Bempah's comments did not sit well with Mensah Thompson, who was the second of three panelists on the programme.
The ASEPA boss, who was visibly irritated, said that Owusu Bempah's attempt to blame Mahama for the failure of the Akufo-Addo government was disrespectful to the people of Ghana.

Their disagreement started as they reacted to a report on galamsey in Ghana by the former Minister of Environment, Science, Technology and Innovation, Prof. Kwabena Frimpong-Boateng.

In his report, Prof. Frimpong-Boateng, the former chairman of the Inter-Ministerial Committee on Illegal Mining (IMCIM), named members of parliament and top government officials who are allegedly involved in illegal small-scale mining (galamsey) in Ghana.

Portions of his report indicated that these MPs and government officials were either directly involved in galamsey or were using their power to protect those involved in the menace.

ESA/WA