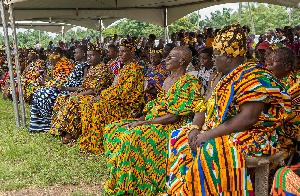 All is set for the 2018 edition of the Agortime Kente Festival of the people of Agortime Kpetoe in the Volta Region, with organisers promising the "richest of Kente and culture."
Mr Eddie Akotei, Chairman of the Festival Planning Committee, told the Ghana News Agency that the checklist for the preparations had been cleared, and that heavy security would be maintained throughout the festivities.

He therefore called on tourists, arts and culture enthusiasts, and the general public to join them celebrate the rich Kpetoe heritage.

"Come and witness the beauty and richness of Agortime on display. You will see the best of Kente in the whole world," Mr Akotei said.

The festival is on the theme: "Attitudinal Change: the Panacea for our Future Development", and it opens on Sunday October 14, with the commencement of church services in selected towns, and traditional prayers on Monday October 15.

President Nana Addo Dankwa Akufo-Addo is expected to grace the grand durbar on Saturday October 20.
During the week, the town would be littered with musical concerts, a Miss Kente beauty contest, weaving competitions, and a pageantry on Thursday of maidens drawing water from River Tordzi to welcome visitors.

The dramatic landing rites of the people would also be re-acted on the River during the early hours of Thursday, and communities like Letsukofe and Wodome will be drowned out by the sound and smoke of musketry on Friday, a symbol of war victory jubilation.

This year's event includes a food bazaar during which Potokpakpa, a staple food of corn meal and okra soup would be served in homes in all the 37 communities.

The United States of America's Ambassador is among dignitaries expected during the festival, as well as hundreds of tourists from across the world.

The event is being organised in collaboration with the Ministry of Tourism.