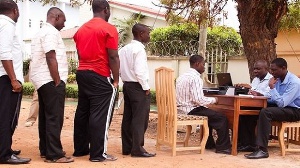 Fri, 26 Oct 2018 Source: Daniel Kaku
A total number of 506,500 registered voters in the newly created Region, Western-North are expected to check their names during the week-long exhibition of the voter register by the Electoral Commission (EC).
The exhibition exercise, which would afford the electorate the opportunity to vote in a Referendum on December 27, 2018 of "Yes" and "No" as to the creation of the Region, begins at 7 am and ends at 6pm each day in 947 polling stations in all the 9 Districts of the proposed Region.

According to the EC, 9 Constituencies are likely to be created out of the proposed Western- North Region to be carved out of the Western Region.

Mr. Stephen Opoku Mensah, Western Regional Director at the Electoral Commission (EC) confirmed this to GhanaWeb in an interview at the inception of the exercise on Thursday, October 25, 2018 at Wiawso.

He said the EC has identified inclusion as an important benchmark of the exercise whereby prospective voters with valid ID cards whose names were not captured in the Register could fight for their names to be included in the register.

Mr. Mensah said the exercise would also afford voters to check their names if they were wrongly spelled or object to names in the register in the case of minors and expunge names of deceased persons from the register.
He entreated all political parties are expected to be at every polling station to monitor activities of the exhibition exercise.

Touching on publicity and awareness of the exercise, Mr. Mensah said the EC had dispatched posters in each community as well EC pick-ups with horn speakers moving round to sensitize the electorates to check their demographic data in the voter's register.

Reacting to how students who were eligible voters could participate in the exercise, he said it was incumbent upon the students to travel from their various to their communities to check their records.

Meanwhile confirmed reports picked by the GhanaaWeb Correspondent point to the fact that voter exhibition turn-out in Sefwi-Wiawso and Domeabra communities were low but the Western Regional EC boss said since this is the first day they were expecting low turn-out.

So far so good, in the proposed Western-North Region, the exercise went on well during the day one without any misunderstanding.
The exercise is expected to end on Wednesday, October 31, 2018.




Source: Daniel Kaku