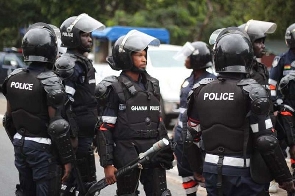 According to eyewitnesses and police preliminary investigations, more than 800 people of Fulani origin who are permanent settlers in Akayongo and Adaboya have been displaced after their houses were burned down by some irate youth from Bongo-SOE and Nabdam districts.
The district security council has launched an investigation to determine the true cause of the Fulani settlement attack.

In the meantime, 11 people have been arrested in connection with the attack.

The eyewitness claimed that the burning of the Fulani settlement was caused by an alleged assault on a man from Bongo-SOE by Fulani herdsmen, which enraged the youth of Bongo-SOE, prompting them to attack the Fulani community.

However, an eyewitness who requested anonymity stated that the allegations levelled against the Fulani were false.

A farmer who was affected claimed that over 2000 cows were stolen during the Bongo-SOE youth raid.
Meanwhile, DISEC officials led by DCE Rita Atanga and NADMO officials conducted an assessment of the area.

Rita Atanga has called for calm as investigations into the cause of the attack continue.

According to the DISEC chairperson, three Fulanis are accused of stealing a motorbike belonging to someone from Bongo-SOE, which led to the attack.

"There has been an attack on the Fulani community that lives in Bongo. We have a portion where the Fulani community are settled, and it is alleged that some communities of Bongo attacked them in Wednesday. So DISEC was here yesterday, and we are here today."