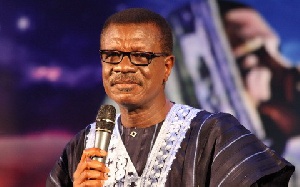 Deputy Communications Director of the opposition National Democratic Congress (NDC) has accused renowned Bible teacher, Pastor Dr Mensah Otabil of ensuring the collapse of Capital Bank through his poor managment of the financial institution of which he served as the Board Chairman.
According to Kwaku Boahen, Pastor Mensah Otabil whose church, businesses and family allegedly have a huge stake in the bank through shares, shamefully supervised the collapse of the bank eventhough he has touted himself as one of Ghana's brainy and visionary leaders of all time.

On Monday, the Bank of Ghana announced the complete takeover of UT Bank Limited and Capital Bank Limited by the GCB Bank Limited after revoking the licences of the two commercial banks.

The central bank attributed its actions to the severe impairment of the capital of the two banks, adding that it approved a Purchase and Assumption (P&A) transaction involving the banks to protect depositors' funds and strengthen Ghana's financial sector.

UT Bank and Capital Bank were heavily deficient in capital and liquidity and their continuous operation could have jeopardized not only their depositors' funds, but also posed a threat to the stability of the financial system. It therefore became necessary for the Bank of Ghana to revoke their licenses and approve a Purchase and Assumption (P&A) transaction to allow GCB Bank, a large bank with the right balance sheet, to take over all deposits and selected assets of UT Bank and Capital Bank." Dr Addison, Governor of the Bank of Ghana noted.

Speaking on Agoo TV and Kasapa News, Kwaku Baoahen stated that Pastor Mensah Otabil who speaks so eloquently about who a good leader is, was the last person expected to preside over bank into a state of insolvency, adding that not even the Pastor's prayers could save the bank from collapse.
"Pastor Otabil as the Chairman of the Board of Directors for Capital Bank, performed so poorly and ran down the bank. As a pastor he couldn't even pray to salvage the bank for the dire straits if found itself, he should be blamed for the bank's collapse just as he blamed then President Mahama for all that went wrong during his regime.

"He has for several years preached about leadership and critcized Ghanaian leaders, but he couldn't bring his leadership acumen to bear when he was Board Chairman of Capital Bank. Was it not barely a month ago at his church's 'Greater Works programme', that Pastor Mensah Otabil urged members to sow a seed of GHC20,000 and receive special prayers for prosperity? If he could make people sow seeds to enrich themselves, why didn't he also sow seed for Capital Bank fortunes to improve."