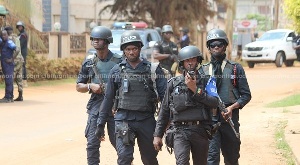 Renewed chieftaincy clashes in the Atulbabisi community in Bolgatanga in the Upper East region, has led to the imposition of a curfew in the town.
Security has been beefed up in the community to prevent further clashes between supporters of the two royal gates after a scuffle on Tuesday 24 April 2018.

The Bolgatanga chieftaincy clashes started after the death of the Paramount Chief of Bolgatanga, Naba Martin Abilba III, in 2013, with his eldest son and another royal laying claim to the skin.
The Judicial Committee of the Upper East Regional House of Chiefs ruled on the matter, but the case is currently pending at the Bolgatanga High Court.

The timely intervention of security personnel in the area prevented a bloodbath.