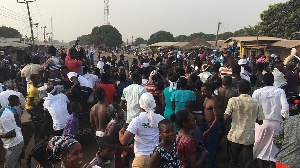 Some residents in Dambai in the Krachi East Municipality are promising the governing New Patriotic Party an increase in voting pattern in the 2020 general elections, for selecting Dambai as the Oti Regional capital.
President Akufo-Addo announced Dambai as the capital for the Oti Region at a ceremony at the Jubilee House on Friday and presented the Constitutional Instrument (C.I) to back the creation of the Oti Region to a delegation of chiefs and opinion leaders from the Oti enclave.

The announcement triggered merrymaking by Dambai residents who earlier gathered around tv and radio sets to monitor the program.

They trooped to the principal streets in excitement to celebrate the historic event.

The residents who were dressed with a touch of white and powdered their bodies, were chanting "Oti oooo Oti", "Nana Addo oooo, Nana Addo ooo" as they march on the streets in groups.

Speaking to Ghanaweb, some of the residents identified the selecting of Dambai as a "thank you package from the President to the Krachi East District for giving the NPP the only seat in the then Volta Region".
"They [NPP] will occupy the Krachi East parliamentary seat forever and we will make sure we vote massively for the party in 2020 general elections", Evans told our news team.

"We are very proud that Dambai has now received its reward from President Nana Addo-Danquah Akufo-Addo for the hard work we did for the NPP [in 2016]", said Bamiase Isaiah, an electoral area cordinator in Dambai.

He, however, added there would be no discrimination in the distribution of projects, and appealed to residents in other part of the enclave to support government develop the Oti Region.

Challenges in Dambai

However, some have called on the Akufo-Addo-led-government to ensure challenges impeding livelihoods of residents in Dambai are tackled in earnest.
They made particular mention of the lack of enough potable water supply, as some residents rely on water from the Oti River.

"We don't have a hospital here, we have to travel long distances to give birth when we get pregnant... We hope Dambai getting the Oti Regional capital means we will get a befitting health facility" a lady who was busily chanting "Nana ooo Nana" in ecstasy narrates.

They also appealed for roads connecting Dambai to farming communities to be fixed.

This they believe would facilitate the transport of food commodities to market center in Dambai and consequently boost the local economy of the Oti Regional capital.