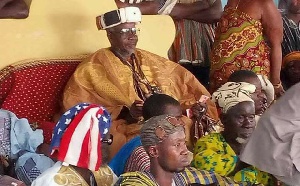 The family of the late Naa Salifu Andani has vowed not to respect the Supreme Court ruling which declared members of the Dasana Andani family the lawful heirs and rulers of the Nanun kingdom.
After over 15 years' chieftaincy dispute in the area, the Supreme Court recently pronounced the Dasana Andani family the legitimate rulers.

However, Chief Bolahi Abu Hassan, spokesperson for the Nakpa Naa family, has stressed that the ruling of the highest court of adjudication would not be complied with by the Nakpa Naa family and has accused the apex court of deliberately attempting to change the traditions and customs of Nanun.

He believes the Supreme Court's judgment was based on the previous ruling of the Northern Regional House of Chiefs – a verdict it (Nakpa Naa family) didn't agree to, for which reason it petitioned the highest court of the land.

Chief Bolahi Abu Hassan gave the assurance that the family would not engage in battle of weapons or any activity which would result in the death of any more persons; but he stressed that the Nakpa Naa family members wouldn't pay homage to the Dasana family; and would not regard members of the family as the overlords of Nanun.

Meanwhile, the Nakpa Naa family has hinted that the only condition under which it would accept the verdict of the Supreme Court would be after the two parties have been called together and a unanimous agreement reached on the matter.
The judgment of the court, read by Justice Gabriel Pwamang, stated that the late Naa Andani Dasana had been lawfully enskinned as ruler of Bimbilla.

The Northern Regional House of Chiefs has indicated that it will immediately put together a committee to reconcile the parties beyond the court ruling.

The chieftaincy clashes between the Dasana Andani and the Nakpa Naa Dawuni families had led to the death of many people in the area.

The late Naa Dasana Andani II was murdered by unknown gunmen, resulting in the imposition of a 12-hour curfew on the Bimbilla Township.