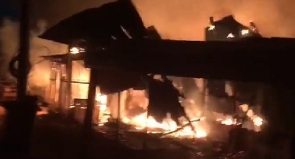 The Eastern Regional Command of the Ghana Fire Service says it recorded 23 incidents of fire outbreaks in the first week of 2023.
In a release published on the Facebook page of the Fire Service, the institution said the region also recorded three incidents of traffic accidents in the first week of the year.

"From the 1st of January 2023 to the 7th of January 2023, the Eastern Region has recorded twenty-three (23) fire outbreaks and three (3) accidents.

"Bushfires topped the category of fires with eleven (11) incidents (due to the harmattan season that has set in), followed by domestic fires with four (4) incidents, and then commercial fires with three (3) incidents. Vehicular fires were two (2), refuse dump fires (others) also two (2) and industrial fires one (1).

"Six (6) casualties were recorded as a result of the three (3) accidents recorded," the release said.
According to the report, the Eastern Regional Fire Commander, ACFO Jennifer Naa Yarley Quaye, has expressed disappointment over the development.

She has assured that her command is ready and committed to dealing with fires and fire-related incidents throughout the year.

Incidents of fire outbreaks in Ghana are usually at their highest during the harmattan season.

GA/SEA