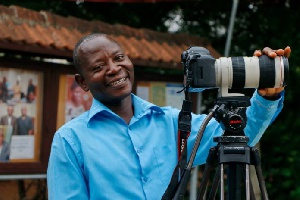 The Ekumfi Development Association has congratulated GJA Photo Journalist of the year, David Andoh.
David Andoh was once again adjudged the Photo Journalist of the year 2017 at the GJA Awards held over the weekend.

The Association which he belongs to found it necessary to congratulate him for achieving that.

Below is the full release congratulating him:

AYEKOO MR DAVID ANDOH

From

EKUMFI DEVELOPMENT ASSOCIATION

" Adzekanfo ay3 bi na hen so y3 b3y3 bi atoa do"

From the basic school in Ekumfi Obidan and on the red soil of Obidan came Mr David Andoh. A true son of the soil. A member of Ekumfi Development Association.

The association and the entire Ekumfi citizenry wishes to express their joy in congratulating Mr David Andoh of multimedia group of company's for winning the Best Photojournalist in the just ended GJA Awards. It is heart warming to know that you have won this award three consecutive times . Indeed hardwork pays.
Your continous excellence in your field of work have brought honor to the land of Ekumfi. Your name has been inscribed on the everlasting achieves of Ekumfi and many descendants to come will get to know your effort in putting Ekumfi on the map.

Edeas will like to encourage you to soar to greater height. We know that it won't be long for us to witness you being crowned as Africa's best photojournalist and also one of the best of your kind in the world.

The 54 communities in Ekumfi with one voice joins your motherland Ekumfi Obidan to say Ayekoo The entire membership and executives of Ekumfi Development Association together with the pride of our land Odeefour Omanhen Akyen say *Ayekoo

You have done so well for us and we will forever be grateful to you.

We also want to encourage citizens of Ekumfi both home and abroad to do their best for mother Ghana and also chun some of their effort to develop Ekumfi. The association opens it doors to all those who wishes to join. We are on Facebook and members can join from there and call the contact.

MR DAVID ANDOH

Move in faith and go for glory.

Signed

Daniel Hammond
President- Ekumfi Development Association

Botrous Kojo Saah Arthur

Vice Chairman

Frank Abeku Adams

Secretary

Angelina Aidoo

Deputy Secretary

Prince Kofi Ansah Danquah

External Relations Officer
Richard Ato Bosomtwe

Organising Cordinator

Ernestina Acquah

Welfare Officer

Sarah Ansah

Financial Secretary/Treasurer

Nana Kwesi Nyame

Patron

Ebuakwa
Mr Kweku Akuffo

Patron

Abor

Mr Asare Akuffo

Patron

Abor

Mr Kwesi Anamoa Sakyi

Patron

Narkwa