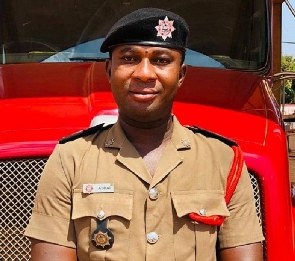 The Head of the Public Affairs Unit for the Ghana National Fire Service (GNFS), in the Ashanti Region, ADO3 Peter Addai, has advised farmers to engage the services of fire volunteers before preparing their lands for fire.
"The service has consistently urged our gallant farmers to make it a point and involve local fire volunteers to help them prepare their new farmlands to avoid setting bushfires to destroy the environment and properties," he said.

"Bushfires caused extensive damages to farm produce in the last farming and dry seasons, as the dry season approaches, there was the need for palm wine tappers, hunters, smokers, and all farmers to be careful about handling naked fire to prevent the destruction of lives and properties," he told OTEC News, Jacob Agyenim Boateng.

In a telephone on Sunday, January 8, 2023, ADO3 Peter Addai called on farmers to remain vigilant as the dry season increases the risk of field fires.
He, however, expressed worry over how negative practices and attitudes of some individuals result in the destruction of food and forest covers through bushfires every year.

The fire officer has therefore encouraged all to support the GNFS in their quest to reduce fire disasters in the country.