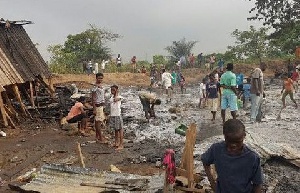 Over 500 residents of Apagya-Dagombaline in Kumasi have been displaced after fire destroyed their residential structures. No casualty was recorded but property worth thousands of Cedis were lost to the fire.
Firefighters had a tough time accessing the area to douse the inferno because of the unplanned nature of the place.

Affected residents believe an electrical fault may have caused the disaster. Others, still, believe a burning candle fell and started the fire.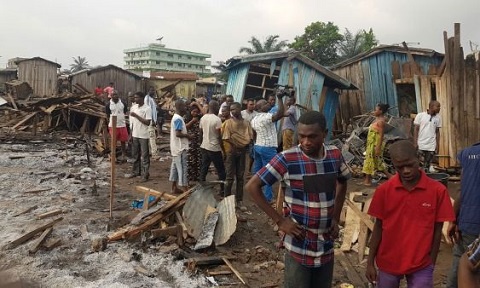 Residents had to assist the firefighters to put out the flames owing to the scale of the inferno. In counting their losses, the affected victims say they have lost all their investment in the fire. They want city authorities and benevolent individuals to come to their aid. The slum is mostly inhabited by head porters, popularly called 'Kayayei'.


The Ghana National Fire Service has launched an investigation to establish the actual cause of the fire. Meanwhile, personnel from the National Disaster Management Organisation (NADMO) have been at the scene to take stock of destroyed items to later offer assistance to victims.