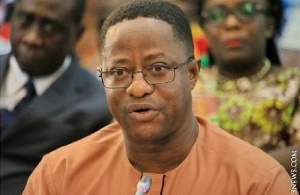 Thu, 18 Oct 2018 Source: Michael Creg Afful
The Energy Minister, John Peter Amewu is urging Ghanaians to support government's quest to reduce fire outbreaks associated with poor electrical wiring.
To realise this feat, he advised that the services of qualified and certified electricians, who have undergone training at the Energy Commission, should be employed by households and industries.

The Minister made this call in a speech read for him by the Deputy Director in- charge of Nuclear and Alternative Energy at the Ministry of Energy, Dr Robert Sogbadzi, at the graduation of about 994 Certified Electrical Wiring Professionals at the Energy Commission head office in Accra.

About 7, 018 electrical wiring professionals have been trained by the Energy Commission since 2013, and to the Minister, the Electrical Wiring Regulations LI 2008, which was passed in 2012 to ensure that only certified electrical wiring professionals are required to undertake wiring, has helped to minimize fire outbreaks associated with poor wiring, in addition to the use of substandard electrical materials for wiring in the country.

Based on this, he said the ministry would continue to support the Energy Commission to train more electrical wiring professionals in order to ensure that the country is saved from rampant fire outbreaks.

Later in an interview with Dr Robert Sogbadzi, he commended the efforts of the Energy Commission for bringing sanity in the area of electrical wiring.
"You will bear with me that for the past three years or more, the rampant fire outbreaks we used to experience in public places especially markets, have been reduced. When you go to the Ghana National Fire Service (GNFS), they will confirm what I'm telling you. These days, we don't hear of fire outbreaks as it was in the past," he said.

He charged the Energy Commission to intensify education for house owners to replace all over 10 years old wires, because they are weak and so likely to spark fire.

Touching on the issue of substandard electrical wires which have flooded our markets, Dr Sogbadzi described as worrying recent comment by the Executive Director of Ghana Standard Authority that about 90% of electrical wiring materials on the market are substandard. In this regard, he called on the Ghana Standards Authority and the Energy Commission to ensure that all these substandard wires on the market are confiscated.

Director for Fire Safety at the GNFS, William Yawson, corroborated the statement by Dr Sogbadzi that fire outbreaks associated with poor wiring have taken a nosedivede for some years now.

He lauded the Energy Commission for the training of the electrical wiring professionals, arguing that "when these electrical wiring professionals are in the country and they are contracted, they will use quality materials for whatever job they will be offered as compared to those who haven't been through the training."
Source: Michael Creg Afful