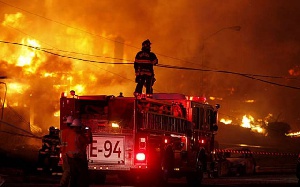 There is heavy traffic on the N1 Highway close to Fiesta Royale where a diesel tanker caught fire on Thursday night.
The timely arrival of firemen from the Ghana National Fire Service (GNFS) at the scene, close to the Dzorwulu traffic lights, prevented an explosion which could have caused huge damage and loss of lives.

An eyewitness identified as Michael Adu-Osei reported that around 7:30pm he spotted black smoke from the truck "so the driver drove forward and jumped out, that is when the fire started".

He explained: "The road has since been blocked all the way from the traffic light to where the car is. I think people were told to stop and not come further because of the situation.
"It is just the head, everything was burnt, but the tanker itself is safe. When the burning started, it didn't get to the tanker before the fire service people got here. We didn't have an explosion. It was a gradual burning of the head.The traffic situation is still there, but the police are directing the cars to pass because the tanker took the outer lane so they [the drivers] are managing."

Personnel from the Ghana Police Service have been dispatched to maintain order and direct traffic away from the scene until the tanker, which has occupied half of the lane, is removed.

No casualties has been recorded.