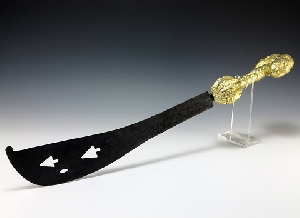 Misunderstanding among three clan gates has prevented the burial of the late Menemano Odikro, Nana Kye Kwadwo, three years after his death.
According to the narration, ascending the stool has been rotational since time immemorial. Following the death of Nana Kye Kwadwo, an uncle and his nephew have been at odds over who will sit on the stool.

The case was heard in the law court. The Sunyani High Court issued an order for the late chief's burial last year.

It gave the queen mother, Nana Ayiwa, authority over burial affairs.
The burial was scheduled for today, February 25, 2023, according to subsequent arrangements.

As rites proceed, the said nephew, Tain Kwadwo, who is battling his uncle over the stool stormed the grounds with thugs brandishing weapons in the presence of police guards and whisked the corpse away.

Mourners had to run for their lives while the few brave ones stood astonishing bringing the activities to a halt.