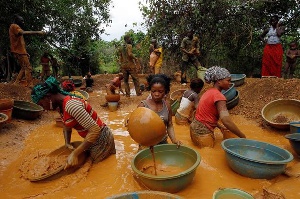 Even though a three-week ultimatum has been given by the Minister of Lands and Forestry to 'galamsey' operators to seize operations, it seems the call has fallen on deaf ears.
At Timiabu in the Nkoranza North District the group has set camp with heavy earth moving machinery to engage in the menace.

When DAILY GUIDE contacted Nana Nyarko, the chief of Timiabu who sold the land to the 'galamsey' people, he said the people came to tell him that they wanted land to cultivate cashew plantation and so he did not see anything wrong with that.

He confirmed that even though the Timiabu village is known since time immemorial to be sitting on gold, it never occurred to them that anyone will like to extract gold there without the knowledge of the government.

Nana Nyarko said the amount the people paid for the acquisition of the 1600 acres of fertile land was shared among some chiefs in Nkoranza and as such he did not pocket the money alone as being rumoured by the youth of the town.
The queenmother of Timiabu who looked so peeved said some people first came to her to look for that particular land to mine gold but she refused because she has seen how gold miners have degraded some lands in this country anytime she watched TV and she will never give in to such destroyers of the environment.

According to Nana Saah, there are about two thousand settler farmers on the land, cultivating maize, yam, cassava, beans etc but sadly since the 'galamseyers' started operation they have served them notice to quit else their houses would be mowed down by the heavy machines.

Nana Saah revealed that the police at Busuya, the district capital have compromised on the issue and even protect the 'galamseyers' anytime they went on site. She said what is most disturbing is that some of the tenant farmers have lived there close to seventy years and as such it is unacceptable for such persons to be displaced. She appealed to the government to wade into the matter to avoid violence since the youth of Timiabu, who are predominantly farmers would not take it lightly.