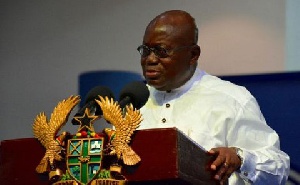 Thu, 14 Feb 2019 Source: GNA
Mr Mustapha Sanah, Chief Executive Officer (CEO) of the Northern Ghana Aid (NOGAID), a non-governmental organization, has appealed to residents of the newly created regions to see their current situation as an effort to improve their living standards.
He said it is important for people in these areas to take advantage of opportunities and speak with one voice to ensure that development was brought to their doorsteps.

Mr Sanah was speaking to the Ghana News Agency in Tamale after the North East and the Savannah Regions were presented with Constitutional Instruments by President Nana Akufo-Addo (CIs) to fully operate, with Nalerigu and Damongo as their regional capitals.

He congratulated the people of the newly created regions for the achievement while commending government under the leadership of President Akufo-Addo for having the political will to fulfill his campaign promise.

Mr Sanah said the time has come for the regions to develop and urged that those who will have the opportunity to administer the regions must do so devoid of politics and work hard to justify the creation of their region.
He said, "I think it will be good to appoint people who are development oriented to facilitate the development process and what is more important is for the people to halt conflicts to pave the way for development".

"The six districts regions should also become model regions where the people must see development as a major priority. Conflicts must be replaced with development and with this our youth will get fully employed to improve their living standards", he said.

"Ghanaians must see the two newly created regions as 'development regions' and NOGAID will support the new regions to succeed saying "the 20 million Ghana cedis seed money for the newly created districts is welcome news and we urge the administrators of these 'development regions' to cut down spending on wasteful sectors and channel more resources under their disposal into meaningful projects".


Source: GNA