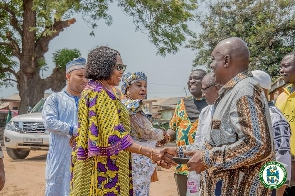 Sat, 4 Feb 2023 Source: Accra Metropolitan Assembly
The Mayor of Accra, Hon Elizabeth Kwatsoe Tawiah Sackey has paid a working visit to some basic schools in Accra to assess the challenges the schools face and develop necessary solutions to address them.
The schools visited are Mamprobi Sempe 1 and 2 Basic School, Dr. H.S Bannerman Basic School among others, all located in the Ablekuma South Sub Metropolitan District.

At the Mamprobi Sempe 1 and 2 Basic Schools, the team observed that the structures and roofs were weak with iron rods protruding out of the pillars. The team also observed an abandoned GetFund project which was yet to be completed.

When the team got to the Dr. H.S Bannerman Basic School, Madam Rita Osei Agyeman, Headmistress of the school narrated how the damaged roofing sheets had affected the electricals, ceilings, and disrupted teaching and learning especially when it rains.




The Mayor of Accra, Hon Elizabeth Sackey who was accompanied by a team of officers from the AMA and traditional leaders in an interview with the media after the tour directed that all churches worshipping in the uncompleted GetFund project and in classrooms in public basic schools in the metropolis to stop the practice to avoid prosecution.
"We noticed that some churches have taken over the uncompleted GetFund project for worshipping...I have directed my outfit to officially communicate to all such churches to desist from the practice, or face court action," she said.

She assured that the Assembly had taken note of the challenges facing the schools and promised measures were being taken to address them whilst calling on Corporate Ghana for assistance.

Earlier in an interaction with pupils, the Mayor urged them to take their studies seriously as well encouraged them to work tirelessly, and assured them that with discipline and God's guidance they would come out with flying colours.


Source: Accra Metropolitan Assembly