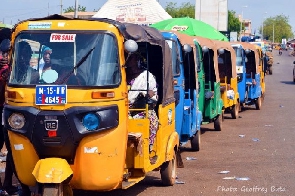 The governing New Patriotic Party (NPP) Communicators in the Ashanti region are to meet the Chief Executive of the Kumasi Metropolitan Assembly (KMA) Samuel Pyne over the Assembly's ban of "Pragya and Aboboyaa" operation in the Kumasi Central District.
The meeting proposed by Keskin Owusu on the regional communication platform will be used to assess the likely impact of the ban on the party's preparations towards the 2024 general elections.

The NPP's Ashanti Communication machinery fear their major political opponent, the National Democratic Congress (NDC) will capitalize on the hardship the ban will create for Pragya operators and their patrons to frame a campaign massage for their votes hence the need for halt the enforcement of the ban.

Other proposals the communicators will also propose include relaxing the restriction on their movement in the central business district.

The NPP communicators believe there are over 1000 Pragya and Aboboyaa riders in the region, therefore, any policy decision against their operations in Kumasi this year must be handled tactically to avoid creation of disaffection for the ruling New patriotic Party seeking to set a new political record by 'breaking the 8'.

The Kumasi Metropolitan Assembly in July this year commenced stakeholders' sensitization on the proposed ban of the activities in Kumasi as part of the Assembly's decision to reorganize the transport system in the regional capital.
Despite engaging the riders in Kumasi for compliance some recalcitrant riders insist conforming to the ban means they are out of business justifying the Kumasi Central Business District is where they can easily transport goods in and out for daily bread.

This compelled the Kumasi Metropolitan assembly with the support of their taskforce to effect arrest of over 40 Pragya riders and also confiscated their tricycles.

The angry riders unfortunately besieged the KMA office on Monday 7th August 2023 and attacked the KMA city guards by pelting them with stones and vandalized some vehicles parked in the premises of the Assembly.

Unfortunately, six police personnel who were among the police reinforcement team called to maintain law and others at the assembly were injured.

The call for the ban of Pragya operational activities in Kumasi was made by the Kumasi Traditional Council in 2022 during the last Asanteman traditional Council meeting at the Ashanti regional house of Chief Chaired by the Asantehene Otumfuo Osei Tutu II.