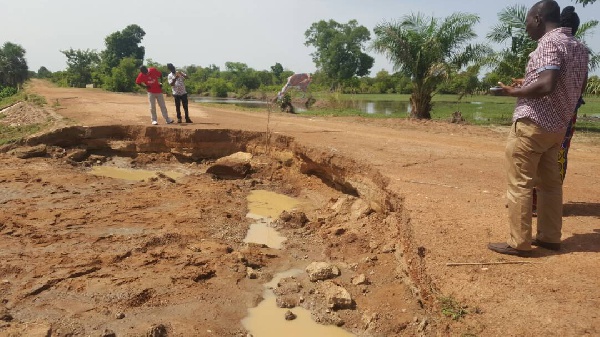 Wed, 16 May 2018 Source: Muniru Ibrahim
The District Chief Executive for Nadowli-Kaleo, Katherine T. Lankno and a team from the National Disaster Management Organization and the district Head of Works Department have toured the broken bridge on the road linking Nanvilli to Kulpeini and other parts of the Nadowli-Kaleo district.
Parts of the bridge which was constructed some 20 years ago, collapsed on May 10, 2018 following a torrential rainfall, disrupting human, trading, and vehicular activities in the area; prompting the District Chief Executive and the government to help find urgent solution to the situation.

The bridge is the only path for students who walk from Kulpeini to Nanvilli to attend Junior High school.

According to the Chief the community, Naa Kunzozumah Danlabuu since the bridge has broken no child has been able to attend school from Kulpeini.

He said residents have not also been able to go to the Sankana Market and other parts of the district, hence, his appeal to the assembly and the government to get the bridge fixed as soon as possible.

The inspection team also stopped at Nator Longorozu to chase away sand winners whose activities also lead to the breaking of another bridge at the Nator Longorozu junction.
Madam Katherine T. Lankono urged residents of communities in the district to exercise patience, as government would resolve the problem in the shortest possible time.

She appealed to the assembly's engineers to immediately find an alternative route by creating a diversion for the residents while she writes to the central government to get the problem fixed.




He also dismissed fears by residents, saying the road will be brought back to normalcy to enhance trading and other activities in the area.

The Head of Works Department of the Assembly, Mr. Amenano Gilbert assured the DCE and the chiefs of Nanvilli and Kulpeini that temporal measures will be installed immediately.
According to the 2010 population and Housing Census, the District has a total population of (61,561). Going by the international standard for the definition of an urban settlement, for the 2010 population and Housing Census which defines an urban community as any community with a population of 5,000 or more none of the communities in the Nadowli-Kaleo District has attained an urban status.

Considering the population of the District, the DCE described as worrying the nature of roads which is impeding development in surrounding communities.

Madam Katherine, therefore, appealed to government to help open up roads in the district.
Source: Muniru Ibrahim