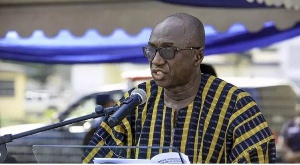 Traditional rulers in Chinto and Doboro near Nsawam in the Eastern Region are calling on the Minister of Interior and the National Security Coordinator to intervene and arrest perpetrators of last Friday's violence in Nsumia to avert invasion of the community by Akuapems.
According to the Chiefs, Nsumia residents who are settlers continue to provoke them with several acts of atrocities and insubordination which they are fed up hence threatening to attack the community to deal with them.

The call follows a violent attack on Police personnel Friday night by Nsumia residents leading to the injuries of three police officers including a Community Protection Assistant Bernard Agyare who was in critical condition and was rushed to Police Hospital in Accra.

On Friday, August 30, 2019 at about 15:20pm, Police stormed Nsumia community to stop residents predominantly Ga people who were playing loud music, burning tyres and blocked road in defiance to a ban on Noise making imposed by Akuapem Traditional Council in the area as part of the Odwira Festival.

The swift intervention by the Police to avert the attack by the Akuapems who were planning to invade the Nsumia Community prevented any loss of lives.

However, the Police team led by the District Commander Marian Ansah were attacked by the residents of Nsumia on arrival with stones and other offensive weapons. Police vehicles with service Number GP 3563 and GO 5117 together with a Hyundai trotro used by the Police were damaged with three Police officers sustaining various degrees of injuries with one in critical condition.
Re-enforcement teams from Kibi Division, Suhum FPU and Nsawam came to the scene but, they were also pelted with stones. However, they were able to clear the roads to pave way for vehicular and human movements.

Police managed to impound some of the public address systems to the station for evidential purpose but no arrest was made.

Information gathered indicates that, there has been rising tension between the Akuapems in Chinto and Ankwa Doboro on one side, and the Ga people in Nsumia. The Gas failed to observe the ban imposed on noise making as they claimed they were celebrating Homowo.

This compelled the Municipal Security Council to hold an emergency security meeting and forced the communities in the jurisdiction to sign undertaking on August 26, 2019 to comply with the ban.

In a joint Press Conference on Saturday August 30, 2019, held by the Akuapem traditional rulers in Chinto and Ankwa Doboro, the Apesemakahene of Ankwa Doboro ,Nana Owusu Asare I threatened that they will force to take the laws into their own hands to deal with the Nsumia residents should the Police fail to deal with the miscreants in the Nsumia community.
"We are watching what they [Police] will do if they fail to take action against them, we will be forced to defend ourselves. Because we cannot allow them to run away with all these atrocities.We also have men, we have youth just that we have been talking to them not to take the laws into their own hands but when persuasion fails, force must be applied".

The Chiefs accused elements of the ruling New Patriotic Party of masterminding the insubordination by the Nsumia residents in an attempt to claim ownership of lands in the area.

"They say their party is in power so they will do whatever they want but we are bent and ready to stop them. From today we will not tolerate such things again and it must end."