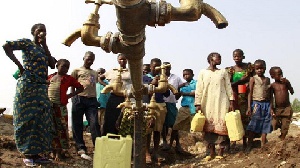 Water shortage has hit Yendi and its surrounding villages due to the drying up of River Dakar the main source of water for the Yendi Municipality.
The raw water cannot be extracted any longer due to the exposure of the top intake strainer and silting of the bottom intake leaving only the middle intake in operation which cannot supply raw water to the required capacity. Yendi is therefore left without adequate raw water supply.

Mr Adam Sayibu, the Yendi Municipal Water Company Manager was briefing the Regent of Dagbon Kampakuya Na Andani Yakubu Abdulai at the Gbewaa palace at Yendi on the water situation in the Municipality.

He said the main source of water for Yendi Municipality was treated water from the Yendi water plant abstracted from the river Dakar noting that there were no boreholes fitted with hand pumps within the Yendi town.

Mr Sayibu explained that it was as a result of delayed rains, which could worsen if the situation did not improve within five days. He said the river Dakar was heavily silted and would require dredging to increase the storage capacity of the dam.

Regent of Dagbon Kampakuya Na Andani Yakubu Abdulai said he received information that there was water scarcity putting a lot of pressure on few boreholes and the Malzeri and Kuga dams.
He said Tankers fetched untreated water from the Malzeri dam to sell to the public and if the situation did not improve Yendi Municipal Hospital, Yendi Senior High school, Dagbon State Technical Senior High School, Yendi College of Health Sciences, St. Vincent College of Education would be hard hit by the water shortage.

Christians he said were not enjoying Easter celebrations to the maximum because of the acute water shortage. He called on government to draw up a plan to connect the Yendi water supply system to the Oti River in Sabari, which was quite far from the Municipality as a longterm investment.

He said various administrations had promised to connect the people of Yendi to river Oti which is 26 kilometres from Yendi and no action had been taken. He explained that the population of Yendi was more than the water supply from the river Dakar that was established in the 1980s.

Kampakuya Na Abdulai stated that river Dakar is five kilometres from Yendi on the Yendi – Tamale road and the bridge over it is now a death trap and was on the verge of collapsing if the Ghana Highways Authority does not re-construct a new one.