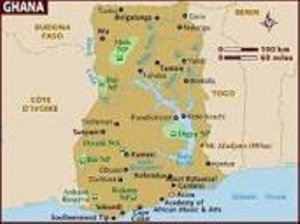 Majority of residents in the Nkwanta Municipality have expressed optimism their town will be named the Oti Regional capital.
They indicated that Nkwanta is located in the central point of the new region's landscape, making it easily accessible by residents in other parts of the Oti Enclave.

They, however, noted it will come as shocker to them if government fails to decide on Nkwanta as the Oti Regional capital.

"I will be surprise if Nkwanta is not selected as the regional capital. This is because we have the facilities and infrastructure to host the regional capital", said Edwin Ocloo, a resident during an interaction on the streets of Nkwanta.

"Everybody in Nkwanta is expectant that tomorrow is a day for us. We expect the President to name Nkwanta as the capital."

Another resident indicated that "we deserve the regional capital and we know the president will settle on Nkwanta. His party's [NPP] electoral fortunes will increase if he gives us the regional capital."
The, residents ruled out an argument that "Nkwanta doesn't have a Paramount chief, therefore would not be pick as the capital" adding the economically viable state of Nkwanta puts it atop all other towns likely to be settled on.

Nonetheless, Kete Krachi residents are also expectant to host the regional capital, saying it's the "only town in the Oti area to have a Paramount Chief which is the Krachiwura, Nana Mprah Besemuna".

"And looking at the towns that have been picked by government as capitals for the new regions, they all have Paramount Chiefs, so we are optimistic Kete Krachi will be picked", said K Dee, a resident.

Dambai is also not ruled out of being named the capital due to its accessibility to residents across the area, likewise Jasikan which was once the capital for the then Buem Krachi Council in 1952, which comprises the Oti Enclave.