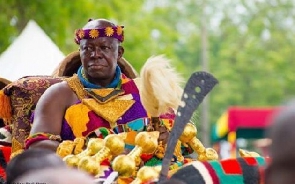 Sat, 11 Feb 2017 Source: The Finder
Asantehene, Otumfuo Osei Tutu II, has said that the Asante Kingdom will stick to its old and known traditions and not adulterate with any other thing so far the enstoolment of the new Asantehemaa is concerned.
Addressing Nananom at the sitting of the Kumasi Traditional Council at the Manhyia palace, the king said that the council was not going to add any pomp and pageantry to the enstoolment of the Asantehemaa.

The new Asantehemaa was officially introduced to Nananom after she was outdoored on Monday

He said all processes and activities going on denotes the old and rich Ashanti culture and there is no way Nananom would adulterate the rich Asante culture with elegance and style.

The new Asantehemaa, Nana Ama Konadu, succeeds Nana Afua Kobi Serwaa Ampem, the late Asantehemaa who reinged for 39 years.
The new queen, 83, is the only surviving sister of the Asantehene.

She would be introduced to Nananom of the Asanteman Traditional Council on Sunday, which happens to be Akwasidae. Her stool name would be made known to the Nananom and the public 44 days later.

After the formal introduction, the Chief of Bantama, Baffour Amankwatia V, thanked Otumfuo on behalf of the Kumasi Traditional Council for the honour done them.

There had been allegations on the age of the Asantehemaa, which Manhyia had explained that Asantehemaa is not supposed to mensturate.
Source: The Finder