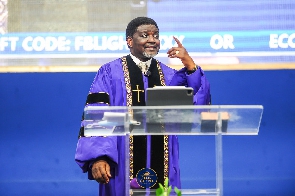 The founder and leader of Perez Chapel International, Archbishop Charles Agyinasare, has been in the news lately following a statement he made about Nogokpo, a community in the Volta Region, being a 'demonic headquarters' as he was narrating his experiences as a young pastor.
In the absence of the archbishop, who was in the US for pastoral work this past weekend, some chiefs of Nogokpo ordered him to appear before them over the comments he made or suffer the consequences.

His church announced a one-week fast and prayer exercise over the threat of the Nogokpo chief.

Whether it coincided or not, Archbishop Agyinasare was preaching about how he got the powers to overcome demons and principalities during his visit to the US, on Sunday, June 4, 2023.

He told the congregation he was preaching to that when he started his ministry, he lacked power over demons.

But after an impaction service and some days of prayers and fasting, the Lord gave him power over these evil forces.
"After the school of ministry, the following day, I carried my bag and I sought for a place to fast and pray. And on the third day of the fast, I heard the same voice say to me, 'My boy Charles, I give unto you power over demons and principalities. Heal the sick, raise the dead, preach the kingdom.

"After that day, I started going round and I saw the power of God. But a few weeks later, I went to preach at Korle Bu. Whiles I was preaching there was this man standing at the bus station and all my preaching was directed at him. I gave it to him left right centre; I gave it to him.

"The man did not mind me at all; he was just chanting. When I got home, I was on my sick bed, shaking all over," he said.

The archbishop said that he was still feeling sick even though he was given several drugs but after praying the Lord told him that he was attacked spiritually by the man, he met at Korle Bu.

"I said how come, you said you have sent me to all the world and he (the Lord) said yes, even though I have sent you to all the world, you know nothing about divine protection. And that is the problem with a lot of Christians," he said.
The pastor said that a lot of pastors have fallen because of demonic attacks, but he will refrain from mentioning their names.

"Because these days when you call names…" he said as he was laughing.

This led to the entire congregation bursting into laughter.

Watch Archbishop Agyinasare's sermon in the video below:


Meanwhile, watch the first episode of Everyday People on GhanaWeb TV below:



You can also watch the latest episode of People & Places on GhanaWeb TV:






IB/OGB