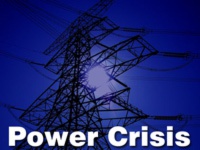 Wed, 14 Mar 2007 Source: GNA
Accra, March 14, GNA - The first phase of government's emergency power programme to solve the energy crisis is nearing completion and by mid April this year 110 megawatts of power would be added to the existing capacity of the nation's electricity requirement.

This amount of power could meet half of Tema Township's needs. Fifty Megawatts (MW) of generating plants, which government purchased two weeks ago have already been installed at Tema PSC Shipping Yard to be operational by March 31 this month.


The rest 6o megawatts to make up for the 110 megawatts would also be located at a different site near the VRA Station also at Tema. Briefing the media on Wednesday during a tour of the installations sites, Mr Joseph Kofi Adda, Minister of Energy said a lot was being done to save the country from its present predicament.


He reiterated government's commitment to solving the energy crisis, adding that besides the 110 MW, additional 80MW that was being funded by the mining companies was underway at Tema.


"The Volta River Authority (VRA), which has also started construction work for the installation of its 126MW plant, would come in to augment the current demand," he said.


The Minister announced that work was ongoing at Kumasi to install a 20 MW plant.

All these are being done to give the current estimated energy shortfall of about 300 megawatts with about 10 per cent growth in demand.


Mr Adda who was accompanied by high level officials and experts from the energy sector, said when all these were put in place, it would have a significant impact on the energy situation in the country. He however, stressed that a major challenge would be to conserving power.


Moreover, he said, government was working with Independent Power Producers (IPPs) who would come to generate about 500 MW. "Some of them have already acquired sites and would soon start working," the Minister hinted.


Mr Adda however noted that a lot of waste existed in the system accounting for about 28 per cent of energy generated in the country and until that was addressed little impact would be made.


On Nigeria's promise to take the burden off Ghana's shoulders to supply power to Benin and Togo, the Minister said at present there were technical difficulties but he gave the assurance that they would soon be resolved

Mr Eric Yankah, a Special Advisor to the VRA Chief Executive told the He said the site for its installation was almost completed and was awaiting the arrival of the plants from overseas.


At the PSC Shipping Yard experts were seen preparing the installed generating sets, which would be, powered diesel for test transmission in a week.


At other sites, engineers were doing civil works to prepare the grounds for the installation of the generating plants, some of which had already arrived with others soon to be in the country. In a related development, a delegation from China on the 400 MW Bui Hydro Dam project were meeting in Accra to finalise arrangements for the full implementation. 14 March 07

Source: GNA