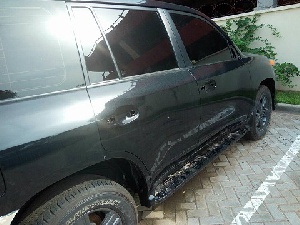 Fourteen stolen vehicles belonging to the office of the president have been confiscated by state officials after months of thorough search.
Interestingly, all the 14 vehicles were captured in ex-chief of staff, Julius Debrah's report as part of vehicles in the pool at the Flagstaff House.

Most of the vehicles in his report during the National Democratic Congress (NDC) administration are also missing.

But a former presidential staffer – now Member of Parliament (MP) for Ningo Prampram, Sam George, blew the cover of the said unpatriotic behaviour when he said that most of the vehicles captured in the handing over report were later sold to appointees of former President John Mahama, as well as secretaries and journalists.

The Toyota Land Cruiser vehicle retrieved from NDC activist, John Dumelo, is said to be one of the stolen cars.

Dumelo was grabbed when he was in the process of changing the particulars of the vehicle in a garage.

It is being suspected that some unscrupulous people in the country are in possession of some of the official vehicles and so efforts are being made to arrest them.
This was disclosed by Nana Oppong, current Director in-charge of Transport at the Office of the President, on a Kumasi radio.

He said pathetically that Julius Debrah's handing over report captured 641 vehicles for the office of the president but only 179 could be accounted for.

"Even the 179 cars that we could account for, about 19 of them were in deplorable state so they were not fit to be driven," he disclosed.

According to him, Mr Debrah's report captured 17 Nissan Sentra vehicles at the presidency; but not a single one could be accounted for now.

Nana Oppong said checks "conducted by us have revealed that cars that are worth a whopping GH¢100,000 were sold to some people as low as GH¢7,000.

"It may surprise you to know that some of the cars, which are in good state, were sold at cheaper prices even after the 2016 elections results had been declared.
"The records show that some of the cars for the presidency were sold on December 6, 2016 and others too were sold on December 17, 2016."

Nana Oppong said, "With the help of the DVLA, we have been able to seize about 14 of the stolen cars, belonging to the presidency, and we hope to arrest more soon.

"John Dumelo's seized car belongs to the 14 vehicles that we have confiscated already; and we will go all out and impound the other stolen cars."