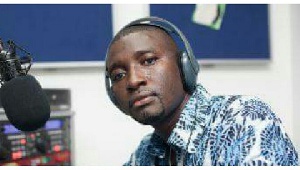 Montie FM's political Show host, Salifu Maase popularly known as Mugabe says as many as 19 members of the opposition side -New Patriotic Party(NPP) who perceived his recent grumbling to be an indication of his frustrations over lack of support from the governing party have called persuading him out of aligning with the NDC after the audio of him which went viral on social media.
"Nobody can convince me to stop following John Mahama and go and support some other candidate." Mugabe said adding his motivation is only founded in the passion he has for the Mahama administration.

He told Anopa Kasapa Morning show host, Fiifi Banson that he's only passionate working for a "selfless, humble and God-fearing" leader and not for any material gain.

He adds: "I'm content with the decent accommodation I have and my car I drive. I don't do this because I'm looking for something. I have other businesses running aside the radio I do and I should be Okay."
Salifu Maase is heard in the audio lambasting leaders of the governing NDC and government officials for what he describes as the sheer neglect of those working hard to retain government in power.

Mugabe is one of the three who were thrown into jail by the supreme court for contempt some three months ago, but were remitted the remainder of the four months prison sentence by President John Dramani Mahama after they served only one month in jail.